Valentine's Day is a great time to surprise your sweetie with a Romantic Vacation to the Blue Lagoon.
Iceland is part of Norse country and the Blue Lagoon is one of the most famous Romantic spots in the lands settled by Nordic peoples. The hot springs and mineral waters make a great place for couples to get away for a Romantic Vacation.
Check out this tour to the Blue Lagoon. I'll bet your sweetie will love it.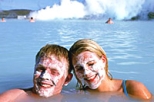 Reykjanes Peninsula and visit to the Blue Lagoon
Price: $70.56
Bathing in the Blue Lagoon environment is a unique experience no one should miss, as it actively assists with coping with the stresses and strain of daily life. Let the lagoon's silica mud cleanse and exfoliate your skin; let the blue green algae nourish and soften, and the mineral salts heal your body and soul.
—-
If your up for a little more adventure while on a Romantic Vacation… Check out this tour with whale watching and a trip to the Blue Lagoon.
Whale Watching and Blue Lagoon Direct
Price: $125.29
Adventure at sea! A sail among unique variety of the Minke whale, the Humpback, Harbor Porpoise and the White-beaked Dolpins – all a common sight in Faxafloi Bay. Enjoy all the qualities the Blue Lagoon has to offer – hiking, bathing or a massage.